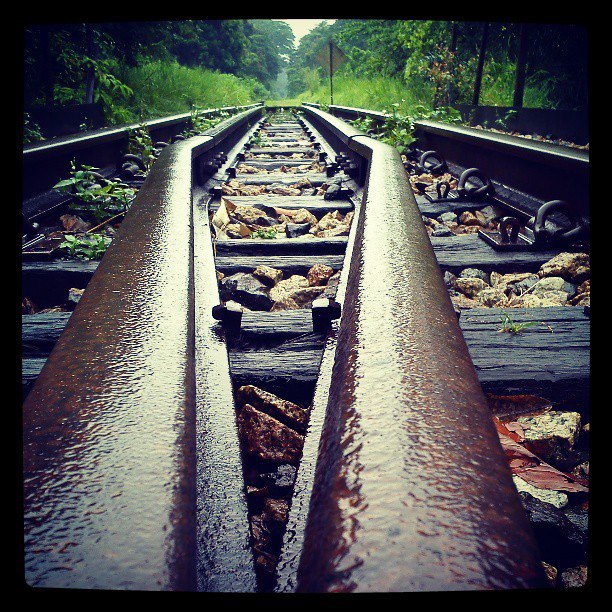 I'm a walker.
For a teenage immigrant who had moved to Singapore in 1991, walking was a transformative act, a way of avoiding a heavily mediated landscape by skirting its periphery and only partially accepting the consuming monotony of where I lived. I trudged up the bumpy hills along Yishun Avenue 4 and Ring Road, Bad Religion and Fugazi blaring on my Walkman. The hills converged and ended in a little plateau where I'd sit and map imaginary landscapes onto suburban sprawl. I continued along these hills until the undulations ceased and the landscape sank back into tarmac.
Teenage crushes prompted walks as well. I often circumambulated the apartment block that I lived in to see if I could spot the twenty-something guy–a James Dean ah beng–who lived on the ground floor with his family. Though Yishun claimed me again, I knew I could always walk out of its clutches into the viaducts and rolling hills of my mind and picture James Dean waiting when I walked back home. Unbeknownst to me, there were probably thousands of other teenagers who had enacted a similar ritual–the urban pilgrim chanting punk rock mantras or mourning the love they'd never declare.
The north yielded itself to such bouts of random and feverish walking. Until 1996, Yishun was the last stop on the MRT, or the local railway line. If you lived anywhere beyond that, you walked to the bus interchange and took a bus for the second part of your journey home. I had a friend in high school whose family had lived for years in a black and white colonial house up on a hill somewhere in Woodlands, only accessible by the TIBS 856 bus. After school, we'd take the bus, alight at a stop with no nearby landmarks and scramble up a hill to get to her house.
We didn't know it then, but a proposal to extend the MRT line to Woodlands and further along the northern rim of the island had been proposed in 1991 and construction got underway in 1994. By around 1997, the cluster of colonial black and white houses situated in Woodlands was demolished to make way for HDBs and eventually, Causeway Point shopping mall. My friend and her family re-located. The perambulations ceased and with it, the opportunity for a parallel imaginary realm that she and I had created in the jungles that were her backyard.
Merlin Coverley writes: "repeatedly denied access, his progress resisted or curtailed, his movements closely monitored and recorded […] the stroller, the stalker, must turn his back and strike out for the perimeter." Obviously, Coverley hadn't been to Singapore. What was the equivalent of his 'perimeter'? Or of Sinclair's delirious journey on foot along London's 'orbital' M25 motorway, a journey that involved monthly walks "through the unloved and often unregarded landscapes of London's outer limits?"
When I inched up the mud trail near Bukit Drive for the first time last year and glanced to my left and right at the green corridor, I sensed something like an answer. This was no bucolic countryside for wayfarers who detested the city. Apart from small pockets of farms in the northern area of Kranji, there was no countryside to retreat to in Singapore. Neither was this a carefully plotted tarmac path with manicured gardens and pleasant scenery for the casual weekend cyclist. This was something functional and political–a railway line connecting Malaysia and Singapore–that had metamorphosed into a green corridor, at turns splendorous and ramshackle.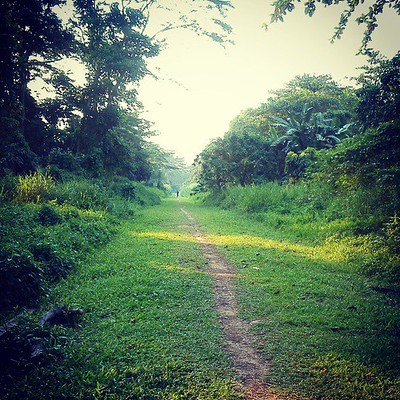 Here, finally, was an unintentionally subversive space. Snaking from Woodlands in the north to Tanjong Pagar in the south, the corridor was an indiscernible geographical phenomenon, indiscernible precisely because it had always been there–a rambling trail beneath the weight of tracks and chugging trains. Birthed by a colonial ordinance act leasing 217 hectares to the Malayan railway, laden with a history of delicate political negotiations and periods of deadlock between Singapore and Malaysia, its raison d'être was now open for interpretation by those who used it. This was a liminal space and as with any such space in Singapore, its liminality in all probability had a limited shelf-life.
I wanted to re-enact the walks of the 1990s without the fury that prompted them. I decided to walk from the Bukit Drive entry point (near Bukit Timah Nature Reserve) of the green corridor to 25 Sungei Kadut Avenue, the location of the Sri Arasakesari Sivan Temple–an anomaly in the middle of an industrial estate.
Having spent a month walking through jungles and villages to see temple ruins in Java, I had also become conscious of the fact that ruins left a lot to the imagination and enabled private, pluralistic expressions of awe. I rarely went to Hindu temples actively in use by the faithful because of their interpellative power. I entered them and almost unconsciously knew what I had to do. Unlike my heady circumambulations in Yishun or the aimless roving around ruins in Java, in a Hindu temple, I circled god piously. In an already intensely mediate landscape, I wondered how I could alter the walk and whether the walk itself could be the ritual performance. Unlike my adolescent years, I also wanted the ritual to work in reverse: to be keenly conscious that "however visionary and unearthly the imaginary landscape becomes, a material geography lies beneath […]". I didn't want to walk to get away. I wanted to get away and walk. 
If you take the Overview Map of the old railway, the corridor is apportioned into eight overlapping rectangles from north to south. Each rectangle covers a suggested section for a walk. From the iconic Bukit Timah Railway station to Holland Road the corridor turns and moves in an almost perpendicular direction away from the busy Bukit Timah and Dunearn roads, escaping a mix of landed property, upscale condominium housing and the perpetual hum of SUVs and luxury cars travelling in either direction. It is, in a word, pristine.
When I first discovered the corridor I gave in to an irrepressible urge: I took photographs that deliberately excluded any structures or signs that would reveal the landscape as contemporary Singapore. There were no road signs peeking at the edges of the frame. There were no signs of construction. The ubiquitous cranes and condominiums looming overhead, as high as (or higher than) the canopy of the secondary forests were carefully excised. I had done the same in photographs of the Hindhede Quarry: there, the communications tower of Bukit Timah Nature Reserve had been cut out.
I wasn't trying to create a photo-shopped idyll. I had seen and hated the advertisements for new condominium housing projects with their acres of untouched forests and wealthy pale-looking racially ambiguous "residents" floating in an infinity pool. There were no people in my photographs. There were animals, insects, flora and fauna: it was a primordial Singapore, older than Singapura, than Singapuram as it would have been called in Tamil during the Majapahit era.
This isn't possible on the corridor from Rail Mall to Sungei Kadut Avenue. The material landscape that exists here is unmissable because so much of it is plainly, defiantly ugly and for once, I wanted to take it all in instead of cropping chunks out. So I called up a friend and we headed off. I walked the stretch from Bukit Drive to Rail Mall on my own, enjoying long stretches of forest cover and quiet before drawing closer to the MRT construction on Upper Bukit Timah road and the sound of continuous stomping and rumbling.
The corridor heading in this northerly direction runs parallel to the road almost the entire way and again, the section from Rail Mall to Hillview (to the west), is an uninterrupted stretch of green. But MRT line construction along this vast stretch has made it virtually unrecognisable. You know where you are once you see the sprawling grounds of the Ministry of Defence to your left. It is an unchanging fortress-like concrete landmark. Competing aesthetically with the MINDEF is a condominium project called The Linear. Harmonising with the landscape, it looks like a nondescript industrial building with a surfboard perched on its roof. People live in it.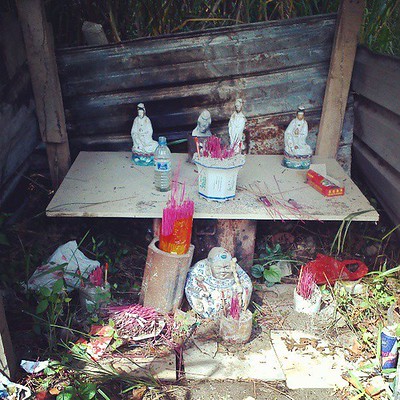 The first (and only) temple in this section of the corridor is the Sri Murugan Hill Temple. Out back in large pens we saw a peacock and a peahen (the peacock is the "vahanam" or vehicle of the presiding deity Muruga). The peahen, clearly used to people, stared at us a while before letting out a mournful series of squawks.vii The half-way mark from Rail Mall to Sungei Kadut Avenue is Ten Mile Junction, the boring mall that is currently undergoing a face-lift to become Junction 10 (it also has a sibling: Junction 8 in Bishan). My friend, a coffee enthusiast, insisted that we explore the front-end that is already in use. He needed a Kopi-o at the Toastbox and I got an isotonic drink. We'd done just over 3km but it felt like a lot longer under the blazing sun. The back-end of Ten Mile Junction is covered in tarpaulin and scaffolding. It shoots up to your right, obscuring the sky, but an albizia tree's picturesque canopy towers just as high, making lichen-like patterns in the sky. It's like a diaphanous veil, obscuring the mass of construction work and breaking up the blue monotony of the tarpaulin into weird patterns. That kind of thing keeps happening on this part of the corridor–the ugly and the idyllic are always one atop the other, or side-by-side.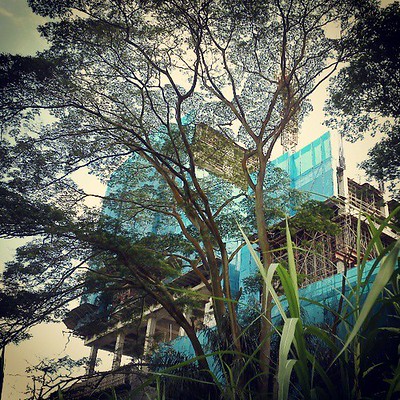 The railway line began operations on October 1, 1923. Even if you are not conscious of this as you walk along the roughly hewn trail, it is impossible to ignore the simple fact that everything around it has changed, while the track's route itself has remained for almost 90 years. This is important because it gives you a peculiar vantage point from which to regard the landscape. On the corridor, you're always behind or in between things. At Chua Chu Kang and Woodland roads, the level crossing for the train has disappeared. But when you cross Chua Chu Kang road to get to the corridor on the other side, people in cars turn and gawk. From where they're sitting, it looks like you are randomly wandering into a sea of lalang grass that has parted for you, a sweating Moses, only you are going nowhere. Though we technically did have an end-point in mind, it wasn't vital to get there. Sinclair talks about "drifting purposefully […] allowing the fiction of an underlying pattern to reveal itself…noticing everything." The heat helped. It slightly stultified involved conversation but heightened the desire to determinedly trudge along. We were drifting purposefully.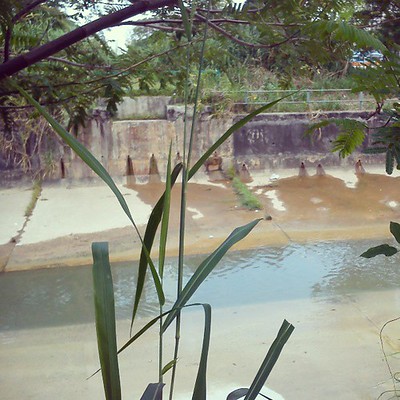 In a couple of sections along Woodlands Road, the corridor is mysteriously bisected. We couldn't get across a drainage canal so we abandoned the corridor. Then a narrower drain next to the corridor emerged and we found a landmark: a makeshift shrine in the scrub with a fat laughing Buddha and elegant Taoist deities in beaten-up white porcelain, shielded from sun and rain by corrugated metal. Close by, a metal plank led us across the drain back into the scrub and the corridor. We ended up under the KJE highway and out the other side. I saw the Woodlands I don't remember: row after row of towering HDB apartment buildings, in shades of cream and white hovering ominously over pedestrians.
I thought of all the people crammed in them going about the business of the day– laundry, bee hoon, wet market, television. I also thought back to the puzzled drivers and felt a peculiar sensation. Here was the entire pulsing humdrum of daily life–we'd passed the KJE highway, a Hindu temple, and several LRT trains like little toys slowly looping above us, taking people from Senja to Phoenix and Bukit Panjang. And yet, we hadn't encountered all that many people. The corridor felt like a strange conduit, or a wormhole, in that we could pass from one area to another that was wildly different and be left alone as we walked and meandered.
We were experiencing the environment in a very physical way–sweating, climbing, cutting across, watching and stopping at any time, at any juncture. But this wasn't like walking in the heart of the city. Robert Walser's writings on walking mention the "vertigo-inducing power of the crowd […] the aimless, undirected energy which can benumb the senses, leaving the walker disorientated and overwhelmed." Walser summarises the enervating effects of walking in the city: "I was swaying. Everything was swaying. All the people walking here had plans in mind, business […] The crowds were seething with energy. Everybody thought himself out in front. Men, women floated by. All seemed to be making for the same goal. Where did they come from, where were they going?"
Walking in the central and southern districts of Singapore induced the same feeling. Out here, it's as though everything passed through you but nothing touched you. Walser proposed a kind of manifesto for "a life in slow but constant motion, at a gawker's pace."xi In the corridor, certainly at this portion, which was far from idyllic or quiet, this seemed possible. The Arasakesari Sivan temple appeared quite suddenly to our right, once again, a gopuram peeking above the tall lalang grass and scrub. We'd hit 6.99km and we had to get off the corridor, loop around the canal and onto Sungei Kadut Avenue to the temple entrance. Sungei Kadut is an industrial heartland–there's nothing here but row after row of factories and parking lots for excavators, bulldozers and loaders. The temple is an oddly serene piece of real estate and largely serves Singapore's Tamil Hindu migrant workers.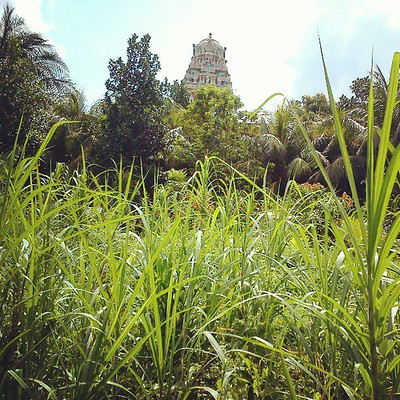 Drenched in sweat, I headed to the bathroom, washed and changed, put the stick-on pottu on my forehead and emerged, ready for the rituals to interpellate me. Something had happened on the walk; nothing profound, nothing transformative, but something nonetheless. I'd walked here, without family, without intention, with nothing to pray for. The interpellative gesture no longer seemed oppressive or predictable.
Deep topography proponent Nick Papadimitriou criticizes the two types of writing that generally seem to encapsulate literature about landscapes. They are, he surmises, either narcissistic because it is all about the writer and her experience of the landscape, or it advocates a cause: let's preserve the green corridor because it's ecologically valuable, or in the case of politicians and tour agents, because it's unique and saleable. I am disinclined to merely choose from one of the two options Papadimitriou offers the itinerant writer. What if the narcissism is a stubborn inscription of oneself on the landscape through narrative, against the tide of manicured destiny? We were merely adding another layer to the palimpsest that was the green corridor and no doubt, it would yield to us and remain there, as everything around it changes.
This essay was originally published in the now-defunct Poskod (2013 issue), edited by Amanda Lee Koe.